Enamel| Dogwood
Amy remembers the Dogwood trees as a child on the farm. They gave her hope that there was a bright renewal at the four corners of the Earth. Her inspiration from the Dogwood trees that surround her sixth generation farm in Bath, Ohio.

Dogwood Pendant and Pin Set
$48.00 Dogwood Pendant made of Handmade Glass Beads/Glass Enamel/Silver Wire/Black Satin Cord/Copper. All adjustable 32" around.
$30.00 Dogwood Pins are 2" wide. Pins made of Glass Enamels/Copper/Silver Color Pin Back
$40.00 Dogwood Earrings are made of Handmade Glass Beads/Enamels/Copper/Gold Filled Wire. Earrings are about 2" long with hook.
Earrings can be turned into Clip-on or Surgical Steel.  An extra charge of $10.00 for Clip-ons.
Please specify color of Enamels.

$130.00 Dogwood Necklace –
3 Copper Enamel Dogwood Blooms, Handmade Glass Beads, Swarovski Crystals, Seed Beads, other Misc. Glass Beads and Silver Toggle Clasp. About 18" around
Please see the Jewelry Pages for more examples of Enamel Jewelry.
---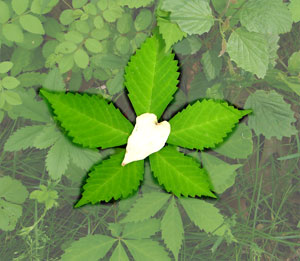 Virginia Creeper with a Dogwood Petal